Narrow living rooms can present a unique design challenge, as they require creative solutions to make the most of the limited space. However, with the right ideas and strategies, you can transform your narrow living room into a functional and stylish oasis. In this article, we will explore brilliant ideas to maximize space in your narrow living room, turning it into a cozy and inviting area that defies its size. Brilliant Ideas for Narrow Living Rooms" offers a plethora of innovative narrow living room ideas to create a functional and stylish oasis in limited space.If you're planning a home renovation, explore creative narrow living room ideas to optimize your space and create a cozy and inviting atmosphere.
Embrace Light and Bright Colors
Light and bright colors can work wonders in opening up a narrow living room and creating a sense of spaciousness. Opt for neutral and pastel shades for the walls and furniture, as they reflect light and make the room feel airy. White, beige, light gray, and soft blues are excellent choices for a visually expansive living room.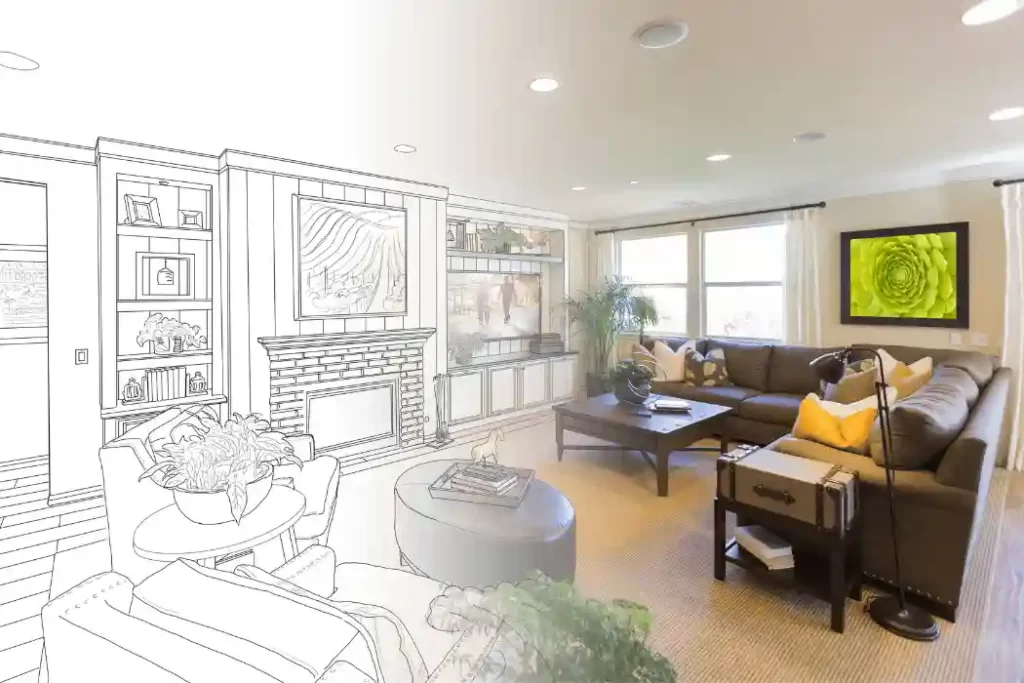 Utilize Vertical Space
When floor space is limited, look upward and make use of the vertical space in your narrow living room. Install floor-to-ceiling shelves or built-in cabinets along one of the longer walls. These storage solutions not only provide ample space to display books and decorative items but also draw the eye upwards, making the room appear taller.
Multipurpose Furniture
In a narrow living room, it's essential to make every piece of furniture count. Invest in multipurpose furniture that serves more than one function. For example, consider a sofa with built-in storage or a coffee table that doubles as a desk or dining table. This way, you can optimize functionality without overcrowding the space.
Create Zones with Area Rugs
Use area rugs to delineate different zones within your narrow living room. Place a rug under the seating area to anchor the furniture and define the main sitting space. Consider using a contrasting or patterned rug to add visual interest and draw attention to the designated areas.
Opt for Streamlined Furniture
Choose furniture with a streamlined and slim profile to prevent the living room from feeling cramped. Avoid bulky pieces that can overwhelm the space. Opt for sofas and chairs with sleek arms and legs to create an open and airy atmosphere.
Wall-Mounted and Floating Furniture
To free up valuable floor space, opt for wall-mounted or floating furniture. Wall-mounted shelves, TV stands, and consoles can keep the area uncluttered and visually expand the room. This approach also makes cleaning and maintenance more manageable.
Mirrors for Illusion
Mirrors are a powerful tool in a narrow living room as they reflect light and create an illusion of depth. Consider placing a large mirror on one of the walls to visually widen the space and add a touch of elegance to the room.
Vertical Wall Decor
When decorating the walls, think vertically. Hang artwork or photographs in a vertical arrangement to draw the eyes upward and add a sense of height to the room. Vertical stripes or patterns on the walls can also contribute to elongating the space.
Utilize Corners
Don't neglect the corners of your narrow living room. Corners are valuable and often underutilized areas that can be transformed into functional spaces. Consider adding a cozy reading nook with an armchair and a floor lamp or installing corner shelves for additional storage and display space.
Keep It Clutter-Free
Clutter can make a narrow living room feel even more confined. Keep the space clutter-free and organized by regularly decluttering and adopting smart storage solutions. Use decorative baskets or bins to hide away items that are not in use.
Conclusion
In conclusion, maximizing space in a narrow living room requires thoughtful planning and innovative ideas. Embrace light colors, utilize vertical space, and opt for multipurpose furniture to make the most of the limited area. Create zones with area rugs and use mirrors strategically to add depth and openness to the room. By implementing these brilliant ideas, you can transform your narrow living room into a stylish and functional space that feels anything but cramped.