Are you a passionate home baker who loves the aroma of freshly baked bread wafting through the house? If so, you probably know the importance of having a well-organized bread drawer. A properly arranged bread drawer not only keeps your loaves fresh but also enhances your baking experience. In this article, we will explore some essential tips and hacks to optimize your bread drawer and elevate your home baking to new heights.
Choosing the Right Bread Drawer
Having the right bread drawer is crucial for every home baker. Opt for a drawer that is spacious, well-ventilated, and has adjustable dividers. These features allow you to store different types of bread while maintaining proper air circulation to keep your loaves fresh for a more extended period. Optimize your kitchen storage and organization during your home renovation by installing a dedicated bread drawer, ensuring fresh loaves are always within reach.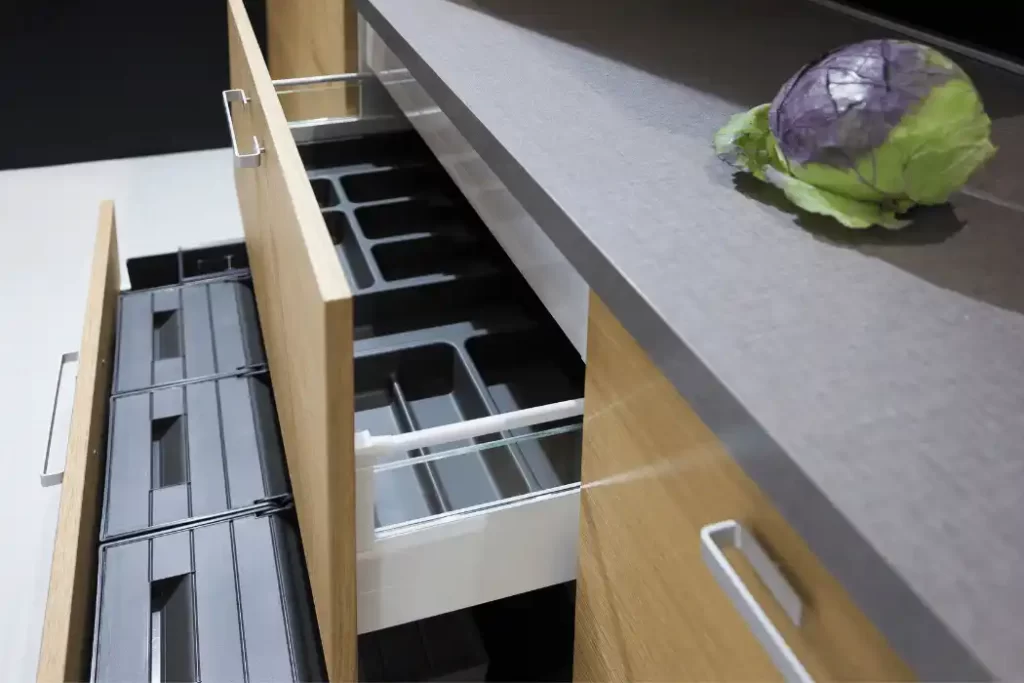 Utilizing Bread Bins and Containers
Invest in quality bread bins and containers to store your homemade bread. Airtight containers help maintain the bread's moisture, preventing it from becoming dry and stale. Additionally, bread bins keep pests at bay and protect your loaves from accidental crushing or damage.
Organizing Bread Varieties
To keep your bread drawer neat and orderly, organize your bread varieties with designated sections or dividers. Separating white bread, whole wheat bread, rolls, and baguettes makes it easier to find the specific type you want without disrupting the other loaves.
Labeling for Convenience
Consider labeling your bread bins or using small tags for each type of bread. This small step saves time, especially when you have a variety of bread stored in the drawer. With clear labels, you'll avoid the guessing game and find the bread you need effortlessly.
Freezing and Thawing Bread
If you have excess bread or dough, freezing is an excellent way to preserve freshness. Wrap the bread securely in plastic wrap or aluminum foil before placing it in the freezer. When ready to use, thaw the bread at room temperature or in the microwave for a few seconds to regain its softness.
Reviving Stale Bread
Nobody likes to waste food, and that includes stale bread. To revive stale bread, sprinkle a little water on the crust and bake it in the oven for a few minutes. The bread will regain some of its moisture and become more enjoyable to eat.
Using Bread Drawer for Dough Fermentation
For home bakers who love experimenting with sourdough or other artisan bread, the bread drawer can serve as an ideal spot for dough fermentation. The consistent temperature and humidity levels in the drawer create the perfect environment for the dough to rise naturally.
Including Bread-Making Essentials
Keep your bread-making essentials like dough scrapers, rolling pins, and bread knives in the drawer. Having everything in one place streamlines your baking process and saves you the trouble of searching for tools in various cabinets.
Regular Maintenance
Clean and maintain your bread drawer regularly to ensure its longevity and to avoid any unpleasant odors or mold growth. Empty the drawer, wipe it clean, and let it air dry before placing the bread back in.
Keeping the Drawer Fresh
To keep the bread drawer smelling fresh, consider placing a sachet of dried herbs, like lavender or rosemary, inside the drawer. Not only will this add a pleasant aroma to your baked goods, but it will also deter pests from getting near your loaves.
Conclusion
A well-organized bread drawer is a game-changer for home bakers. With the right choice of drawer, proper organization, and some smart hacks, you can enhance your baking experience and keep your bread fresh and delectable for longer. So, revamp your bread drawer using these essential tips, and take your home baking to a whole new level!