Are you looking to give your kitchen a fresh new look without breaking the bank? Look no further! In this article, we will share with you seven DIY countertop hacks that will transform your kitchen. These simple yet effective techniques will help you upgrade the appearance of your countertops, adding style and functionality to your cooking space. So, roll up your sleeves and get ready to give your kitchen a makeover!
The kitchen is the heart of any home, and the countertops play a significant role in defining its overall aesthetic. Upgrading your countertops can instantly breathe new life into your kitchen, but professional renovations can be costly. Fortunately, with these seven DIY countertop hacks, you can achieve remarkable results at a fraction of the price.
Paint It Up
Painting your countertops is a budget-friendly way to give them a fresh and updated look. Start by thoroughly cleaning the surface and sanding it to create a smooth base. Then, choose a high-quality paint specially formulated for countertops. Apply several coats of paint, allowing each layer to dry completely. Finish it off with a protective sealant, and you'll have a brand-new countertop that suits your style. Planning a home renovation? Elevate your space with stunning countertop options that will redefine the heart of your kitchen or bathroom.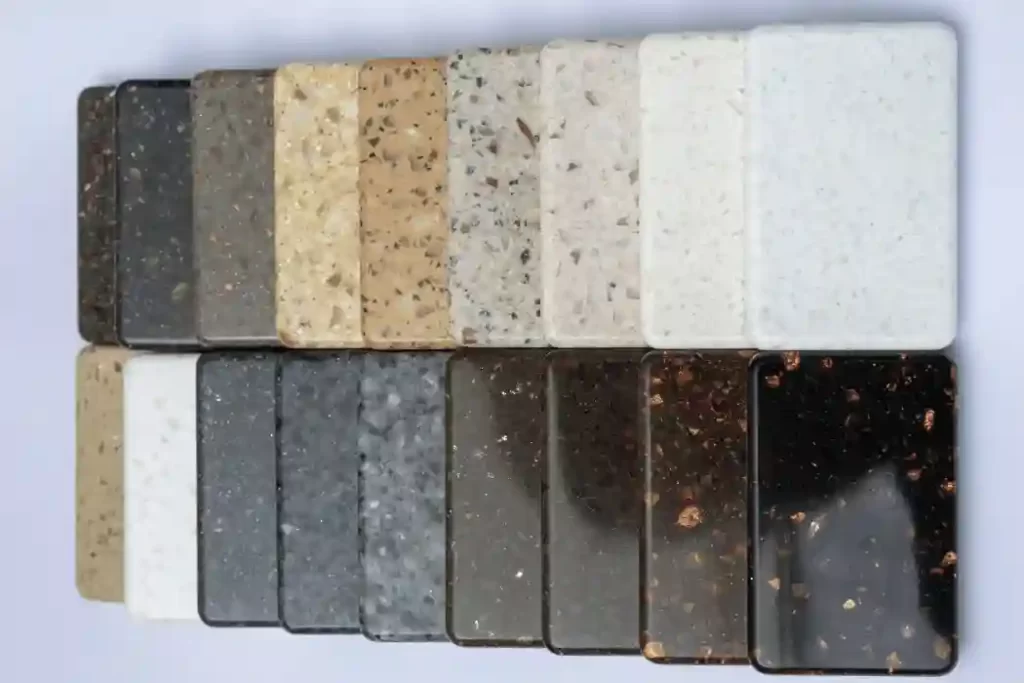 Tile Transformation
If you're tired of your plain countertops, consider transforming them with tiles. Measure your countertops and choose tiles that fit your desired aesthetic. Prepare the surface by sanding and priming it. Then, apply thin-set mortar and lay the tiles in a pattern of your choice. After the mortar dries, apply grout and seal it to ensure durability. This DIY tile transformation will give your kitchen a stunning and personalized touch.
Faux Marble Magic
Marble countertops exude elegance, but they come with a hefty price tag. Luckily, you can achieve the look of marble with some paint and creativity. Start by applying a base coat that matches the background color of marble. Then, using a sponge or feather, add veins and patterns with different shades of paint. Blend the colors gently to create a realistic marble effect. Finish with a protective top coat, and voila! You have gorgeous faux marble countertops.
Concrete Makeover
Concrete countertops are on-trend and can provide an industrial, modern look to your kitchen. This DIY project involves creating a concrete overlay on your existing countertops. Clean the surface thoroughly and apply a primer. Then, mix concrete with water according to the manufacturer's instructions and spread it evenly on the countertops. Smooth out the surface and let it dry. Finally, seal the concrete to protect it from stains and damage.
Butcher Block Revamp
If you have wooden countertops that have seen better days, give them a rejuvenating makeover with a butcher block treatment. Start by sanding the surface to remove any scratches or stains. Then, apply a food-safe oil or wax to condition and protect the wood. This treatment not only restores the natural beauty of your countertops but also enhances their durability and longevity.
Resurfacing with Epoxy
Epoxy is a versatile material that can completely transform your countertops. Begin by thoroughly cleaning and sanding the surface. Then, mix epoxy resin with a hardener according to the manufacturer's instructions. Pour the mixture onto the countertops and spread it evenly, ensuring it covers the entire surface. You can add pigments, glitter, or other decorative elements to create a unique look. Allow the epoxy to cure, and you'll have glossy, durable countertops that are sure to impress.
Conclusion
With these seven DIY countertop hacks, you can unleash your creativity and revitalize your kitchen without the need for expensive renovations. From painting and tiling to creating faux marble and concrete overlays, there's a hack for every style and budget. So, roll up your sleeves, gather your materials, and embark on a kitchen transformation journey that will leave you with stunning countertops you'll love.