The kitchen is often the heart of a home, and its design plays a significant role in creating a warm and inviting atmosphere. Stained kitchen cabinets offer a unique aesthetic appeal that can instantly elevate the overall look of your kitchen. Unlike painted cabinets, stained cabinets showcase the natural beauty and grain patterns of the wood, adding a touch of elegance and sophistication to your space. Transform your kitchen into a stylish and inviting space during your home renovation with the timeless beauty of stained kitchen cabinets, adding a touch of sophistication to your culinary haven.
Types of stains for kitchen cabinets
When it comes to stained kitchen cabinets, you have various options to choose from. Some popular types of stains include oil-based stains, gel stains, and water-based stains. Each type has its own characteristics and advantages, so it's essential to consider factors such as durability, ease of application, and the desired finish when selecting the right stain for your cabinets.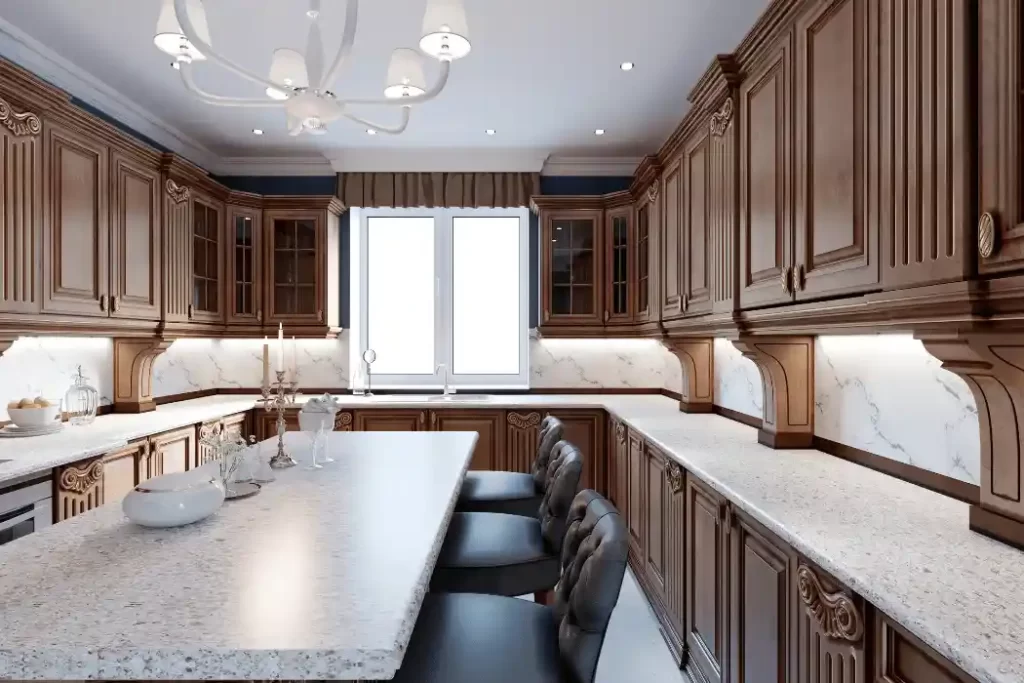 Choosing the right wood for stained cabinets
The type of wood you choose for your kitchen cabinets will greatly impact the final appearance of the stained finish. Different wood species have unique grain patterns and color variations, which can complement or contrast with the stain color. Some popular wood choices for stained cabinets include oak, maple, cherry, and walnut. It's important to select a wood that aligns with your desired style and aesthetic preferences.
Factors to consider when selecting a stain color
Selecting the right stain color is crucial in achieving the desired look for your kitchen cabinets. Consider factors such as the overall color scheme of your kitchen, the amount of natural light, and the mood you want to create. Lighter stain colors like honey or golden oak can add brightness and a sense of spaciousness, while darker stains like espresso or mahogany create a cozy and dramatic ambiance.
Benefits of stained kitchen cabinets
Stained kitchen cabinets offer several advantages over other cabinet finishes. Firstly, they are highly durable and resistant to chipping and peeling, making them a long-lasting investment. Secondly, stains penetrate the wood, enhancing its natural beauty and providing a unique depth and texture. Additionally, stained cabinets are more forgiving when it comes to concealing dirt, fingerprints, and wear, making them easier to maintain compared to painted cabinets.
How to maintain stained cabinets
To keep your stained kitchen cabinets looking their best, it's important to follow proper maintenance practices. Regularly wipe down the cabinets with a soft, damp cloth to remove any dust or spills. Avoid using harsh chemicals or abrasive cleaners that can damage the stain. Apply a quality furniture polish or cabinet-specific wax occasionally to nourish the wood and protect the finish. By following these simple steps, your stained cabinets will retain their beauty for years to come.
Blending stained cabinets with other kitchen elements
When incorporating stained cabinets into your kitchen design, it's crucial to ensure harmony and balance with other elements in the space. Consider the flooring, countertops, backsplash, and wall colors to create a cohesive look. For example, pairing dark stained cabinets with lighter countertops and flooring can create an eye-catching contrast. On the other hand, using a similar stain color for cabinets and flooring can create a seamless and elegant flow.
Stained cabinets for different kitchen styles
Stained cabinets can complement a wide range of kitchen styles, from modern and contemporary to traditional and rustic. Let's explore how stained cabinets can be incorporated into various kitchen aesthetics:
Stained cabinets in modern kitchens
In modern kitchens, stained cabinets can add warmth and natural elements to the clean and minimalist design. Opt for sleek and straight cabinet profiles with a darker stain color to achieve a sophisticated and luxurious look. Pair them with stainless steel appliances and minimalist hardware for a cohesive modern aesthetic.
Stained cabinets in traditional kitchens
For traditional kitchens, stained cabinets with rich, warm tones can create a timeless and classic ambiance. Choose cabinet door styles with decorative detailing, such as raised panels or beadboard, to enhance the traditional charm. Complete the look with ornate hardware and traditional fixtures to achieve a cohesive design.
Stained cabinets in rustic kitchens
Rustic kitchens embrace natural elements and a cozy, welcoming atmosphere. Stained cabinets in medium to dark tones, such as walnut or cherry, can add depth and rustic appeal. Pair them with natural stone countertops, farmhouse sinks, and vintage-inspired hardware for an authentic rustic look.
Stained cabinets in farmhouse kitchens
Farmhouse kitchens exude charm and character with their rustic and vintage-inspired elements. Opt for light to medium stain colors, such as honey or oak, to achieve a warm and inviting farmhouse feel. Combine the stained cabinets with open shelving, apron-front sinks, and vintage-style fixtures for an authentic farmhouse look.
Stained cabinets in transitional kitchens
Transitional kitchens blend traditional and contemporary elements, creating a harmonious and timeless design. Stained cabinets in medium to dark tones can anchor the space and provide a perfect balance. Pair them with simple and clean-lined hardware, quartz countertops, and subway tile backsplash for a transitional aesthetic.
Stained cabinets in contemporary kitchens
Contemporary kitchens embrace sleek lines, minimalist design, and a focus on functionality. Stained cabinets in lighter tones, such as ash or maple, can add warmth and texture to the clean and crisp look. Pair them with high-gloss finishes, handle-less cabinets, and bold pops of color for a contemporary and eye-catching design.
Conclusion
Stained kitchen cabinets offer a fantastic way to transform your space and add a touch of elegance and warmth to your kitchen. Whether you prefer a modern, traditional, rustic, farmhouse, transitional, or contemporary style, stained cabinets can be tailored to suit your aesthetic preferences. Remember to choose the right stain color, select the appropriate wood species, and consider the overall design elements to create a cohesive and inviting kitchen atmosphere. By embracing the beauty of stained kitchen cabinets, you can create a space that reflects your personal style and enhances your daily culinary experiences.