In the hustle and bustle of everyday life, creating a serene oasis at home is essential for relaxation and rejuvenation. A spa room offers the perfect escape, where you can unwind and soothe your senses. In this article, we will explore spa room decorating ideas that bring the ambiance of a luxurious spa into your home. From tranquil color palettes to calming aromatherapy, let's discover how to design a spa room that nurtures your well-being and provides the ultimate wellness retreat.
Calm and Tranquil Color Palette
Embrace Serene Hues
Start by choosing a calm and tranquil color palette that promotes relaxation. Soft pastels, soothing neutrals, and shades of blue and green are ideal choices for creating a spa-like atmosphere. Transform your home renovation with calming spa room decorating ideas, offering a rejuvenating retreat to relax and unwind after a long day.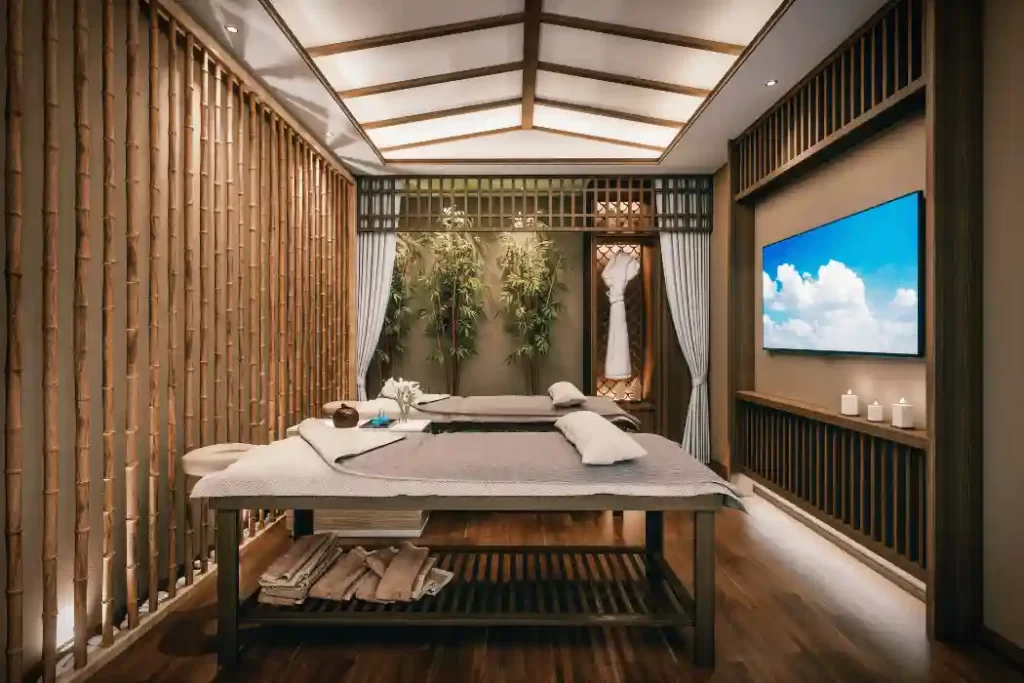 Nature-Inspired Tones
Draw inspiration from nature and incorporate earthy tones into your spa room. Think sandy beiges, natural greens, and gentle grays that mimic the serenity of the outdoors.
White Elegance
White is a timeless color that adds elegance to any space. Use white as the main color for walls and furniture to create a clean and fresh canvas for your spa room.
Natural Materials and Textures
Embrace Organic Elements
Incorporate natural materials and textures to add warmth and authenticity to your spa room. Use bamboo, wood, stone, and rattan to create a connection with nature.
Soft and Luxurious Fabrics
Choose soft and luxurious fabrics for upholstery and linens. Opt for plush towels, soft bathrobes, and cozy cushions that invite you to unwind and pamper yourself.
Relaxing Flooring Options
Select flooring options that are soothing to walk on, such as bamboo or cork. Add soft area rugs to create a comfortable space for meditation or yoga.
Calming Aromatherapy
Fragrant Essential Oils
Incorporate aromatherapy into your spa room with fragrant essential oils. Use an oil diffuser or scented candles to fill the room with calming scents like lavender, eucalyptus, or chamomile.
Soothing Herbal Teas
Keep a selection of soothing herbal teas on hand for a relaxing tea ceremony. Chamomile, peppermint, and lemongrass teas are known for their calming properties.
Fresh Blooms and Greenery
Add fresh blooms or potted plants to your spa room to purify the air and bring a touch of nature indoors. Flowers like lavender or jasmine can enhance the spa-like atmosphere.
Ambient Lighting
Soft and Warm Glow
Create a tranquil ambiance with soft and warm lighting. Use dimmer switches or adjustable lamps to control the intensity of the light and set the mood.
Candlelight Glow
Candlelight is synonymous with relaxation and tranquility. Place scented candles around the room to add a soft and inviting glow that enhances the spa-like experience.
Himalayan Salt Lamps
Himalayan salt lamps not only emit a calming glow but also have air-purifying properties. Incorporate these lamps into your spa room to create a serene and peaceful environment.
Relaxing Soundscape
Nature Sounds
Enhance the calming atmosphere with nature sounds, such as flowing water, birds chirping, or gentle rain. Play a nature soundscape to create a soothing backdrop.
Mindful Meditation Music
For moments of deep relaxation or meditation, play tranquil and mindful meditation music that helps clear the mind and reduce stress.
Personalized Playlists
Create personalized playlists of your favorite calming music to enjoy during your spa sessions. Soft melodies or classical tunes can further elevate the spa room's ambiance.
Personal Spa Necessities
Luxurious Bath Essentials
Invest in luxurious bath essentials, such as exfoliating scrubs, bath oils, and skin-nourishing lotions. Keep them easily accessible in your spa room to use during your pampering sessions.
Fluffy Bathrobes and Towels
Wrap yourself in comfort with fluffy bathrobes and towels. Hang them on hooks or keep them neatly folded for a spa-like touch.
Relaxation Station
Create a designated relaxation station in your spa room with comfortable seating, plush cushions, and soft throws. This area can serve as your meditation corner or a cozy spot for reading.
Conclusion
Designing a spa room in your home is an investment in your well-being and relaxation. By embracing serene colors, natural materials, and calming elements like aromatherapy and ambient lighting, you can create a tranquil sanctuary that soothes the senses and nurtures your mind, body, and soul. Embrace the spa room decorating ideas to create the ultimate wellness retreat within the comfort of your home.