Living in a small apartment or studio doesn't mean sacrificing style and functionality. With some clever interior design strategies, you can make the most of your limited space and create a comfortable and visually appealing environment. In this article, we will explore various tips and techniques to maximize small spaces, allowing you to make the most of every square foot.
Living in a small space presents unique challenges and opportunities when it comes to interior design. By utilizing smart solutions and creative thinking, you can transform even the tiniest apartment or studio into a practical and aesthetically pleasing home. This article will guide you through the process of maximizing small spaces, providing valuable tips and ideas to inspire your own design endeavors.
Assessing the Space
Before diving into the design process, it's crucial to assess your space and understand its limitations and potentials. Take measurements of the area and make note of any architectural features or constraints. Understanding the layout and dimensions will help you make informed decisions when selecting furniture and planning the overall design.
Home renovation is an exciting opportunity to transform your living space and enhance its interior design.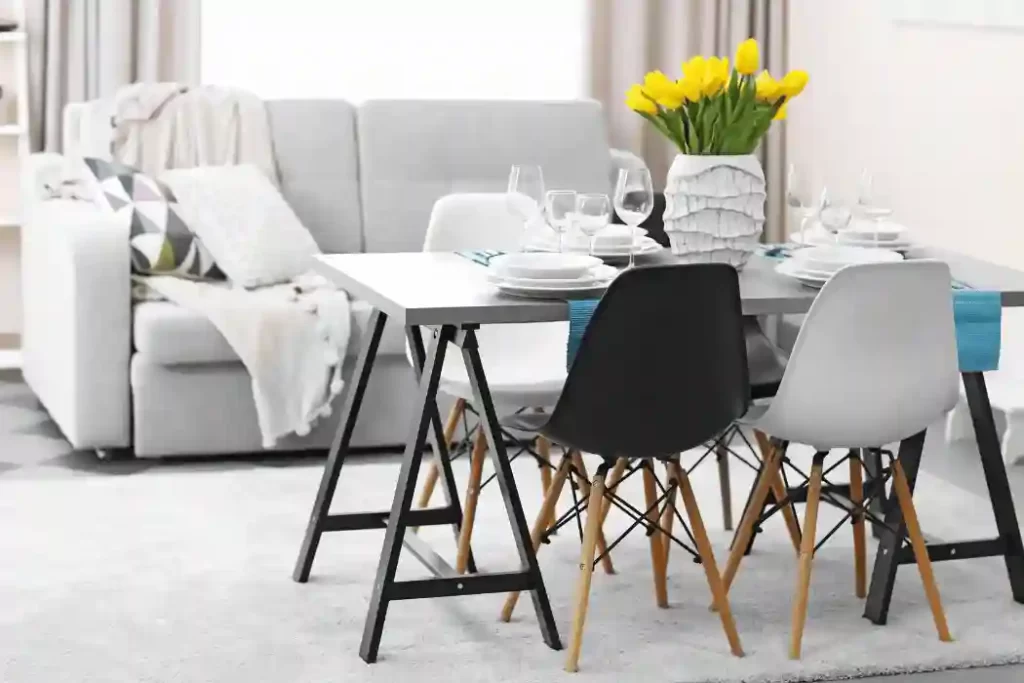 Strategic Furniture Selection
Choosing the right furniture is essential in small spaces. Opt for pieces that serve multiple functions or have built-in storage options. Consider compact furniture such as sleeper sofas or foldable tables that can be easily tucked away when not in use. Prioritize functionality without compromising on style.
Utilizing Vertical Space
When floor space is limited, it's crucial to think vertically. Install shelves, wall-mounted cabinets, or bookcases to maximize storage opportunities. Use vertical space for displaying decorative items or storing frequently used items within easy reach. Vertical storage solutions not only optimize space but also draw the eye upwards, creating an illusion of a larger room.
Creative Storage Solutions
In small spaces, effective storage solutions are essential to keep clutter at bay. Invest in storage ottomans, under-bed storage containers, or hanging organizers. Use hidden storage compartments in furniture or utilize the space under stairs. Cleverly designed storage solutions will help you maintain an organized and tidy living area.
Multifunctional Furniture
Make the most of your limited space by incorporating multifunctional furniture. Look for coffee tables with hidden storage, sofa beds, or ottomans that double as extra seating and storage. Folding or extendable dining tables are perfect for small dining areas. Combining multiple functions into one piece of furniture saves space and adds versatility to your home.
Enhancing Natural Light
Ample natural light can make a small space feel more open and airy. Keep window treatments minimal to allow maximum light penetration. Use sheer curtains or blinds that can be fully opened during the day. Mirrors strategically placed across from windows can reflect light and create the illusion of larger windows.
Mirrors and Reflective Surfaces
Mirrors are a powerful tool in small space design. They reflect light, create an illusion of depth, and make a room appear larger than it actually is. Place mirrors on walls, closet doors, or behind furniture to maximize their impact. Additionally, consider using furniture or decor items with reflective surfaces to further enhance the feeling of spaciousness.
Color and Lighting
Choosing the right colors and lighting can significantly impact the perception of space. Opt for light, neutral tones for walls and larger furniture pieces to create a sense of openness. Use strategic lighting with a mix of ambient, task, and accent lighting to create depth and highlight different areas. Well-placed lighting fixtures can also serve as decorative elements.
Creating Zones
Dividing your small space into distinct zones can help create a sense of order and organization. Use rugs, furniture placement, or room dividers to define separate areas for sleeping, dining, and lounging. By delineating zones, you can create the illusion of larger, well-defined spaces within a single room.
Visual Illusions
Design elements that create visual illusions can play a significant role in maximizing small spaces. Vertical stripes on walls can make them appear taller, while horizontal lines can give the illusion of width. Using floor-to-ceiling curtains or hanging artworks at eye level can draw the gaze upward and make the room feel more expansive.
Art and Decor
Carefully chosen art and decor can enhance the aesthetics of your small space. Select pieces that complement the overall style and scale of the room. Opt for smaller artwork or create gallery walls to maximize impact without overwhelming the space. Choose decor items that serve a purpose, such as decorative baskets or stylish storage containers.
Greenery and Plants
Bringing in plants and greenery can breathe life into a small space and add a touch of nature. Select plants that thrive indoors and require minimal maintenance. Hang planters or place potted plants strategically to maximize space utilization. Not only do plants contribute to a healthier indoor environment, but they also add visual interest and a sense of tranquility.
Maximizing the Entryway
Make the most of your entryway by implementing efficient storage solutions. Use hooks or a wall-mounted organizer for keys, bags, and coats. Consider a shoe rack or bench with built-in shoe storage to keep the area neat and organized. A well-designed entryway sets the tone for your entire living space.
Conclusion
Maximizing small spaces is all about smart planning and creative thinking. By carefully selecting furniture, utilizing vertical space, incorporating multifunctional elements, and implementing clever storage solutions, you can transform your small apartment or studio into a functional and stylish home. Remember to pay attention to lighting, colors, and decorative touches that enhance the perceived spaciousness of the space.