A clean and well-maintained roof is essential for both the longevity and curb appeal of your home. Regular roof cleaning not only helps in preserving the structural integrity of your roof but also enhances the overall aesthetic appeal of your property. However, there are several common mistakes that homeowners make when it comes to roof cleaning. In this article, we will discuss these mistakes and provide insights on how to avoid them to ensure your roof remains in excellent condition for years to come.
Importance of Roof Cleaning
Proper roof maintenance is crucial to protect your home from various potential damages. Over time, roofs accumulate dirt, debris, algae, moss, and other organic matter. If left unaddressed, these elements can lead to clogged gutters, water damage, and even structural issues. Regular roof cleaning plays a vital role in preventing such problems and maintaining the overall integrity of your roof. Roof cleaning is an essential step in any home renovation, preserving the structural integrity and enhancing the overall aesthetic appeal of your property.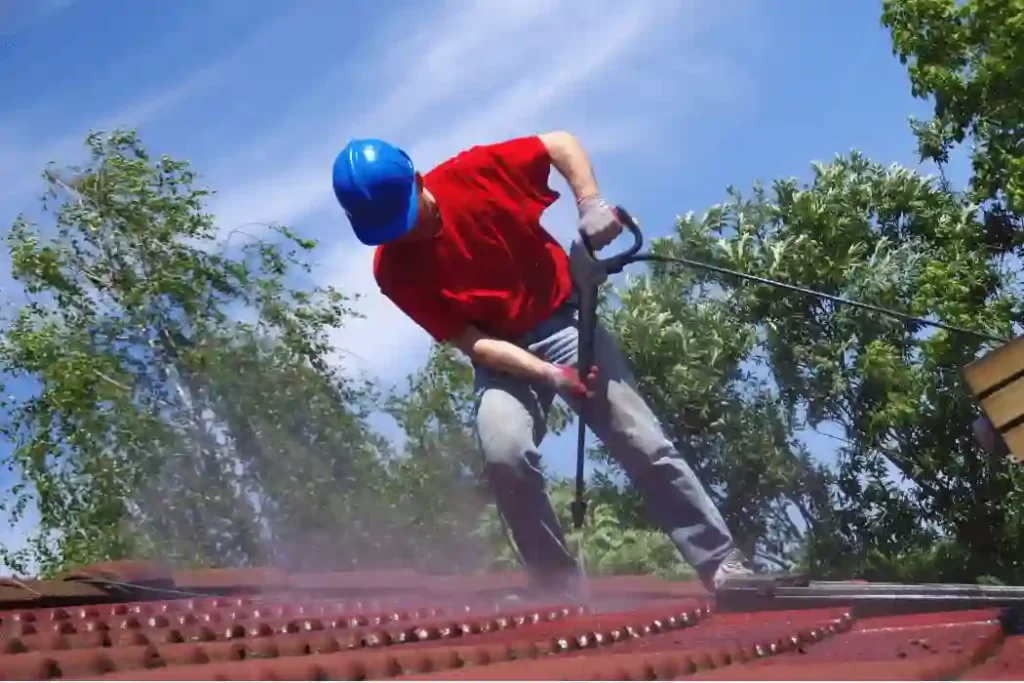 Using High-Pressure Washing
One common mistake homeowners make is using high-pressure washing to clean their roofs. While it may seem like an effective method to remove stubborn dirt and grime, high-pressure washing can actually cause more harm than good. The forceful water pressure can damage the shingles, dislodge granules, and even lead to water infiltration. It is recommended to use low-pressure washing techniques or hire professionals who are experienced in gentle roof cleaning methods.
Neglecting Regular Cleaning
Another mistake to avoid is neglecting regular roof cleaning. Many homeowners assume that once their roof appears clean, there's no need for further maintenance. However, regular cleaning is essential to prevent the buildup of debris and organic matter, which can deteriorate the roof over time. It is advisable to schedule roof cleaning at least once or twice a year, depending on your location and environmental factors.
Improper Cleaning Solutions
Using improper cleaning solutions can be detrimental to your roof's longevity. Harsh chemicals, bleach, or abrasive cleaning agents can damage the shingles, strip away protective coatings, and cause discoloration. It's important to choose mild, eco-friendly cleaning solutions that are specifically formulated for roof cleaning. Additionally, following the manufacturer's guidelines and recommendations is crucial to ensure the safety and effectiveness of the cleaning process.
Not Protecting Landscaping
During the roof cleaning process, it's important to protect your landscaping. Some cleaning solutions or runoff water can be harmful to plants, flowers, and shrubs. Before starting the cleaning process, wetting down the surrounding landscaping and covering delicate plants with tarps or plastic sheets can prevent potential damage. It's also advisable to rinse the landscaping thoroughly after the cleaning is complete to remove any residual cleaning agents.
DIY Roof Cleaning
While DIY projects can be satisfying, roof cleaning is a task best left to professionals. Climbing on the roof without proper safety equipment and knowledge can be dangerous. Additionally, without the right tools and expertise, DIY roof cleaning can lead to ineffective results and potential damage to your roof. Hiring professional roof cleaning services ensures that the job is done efficiently, safely, and with the expertise required for optimal cleaning.
Professional Roof Cleaning Services
Professional roof cleaning services are the ideal solution for homeowners who want to ensure a clean and well-maintained roof. These services employ trained technicians who have the knowledge and experience to handle various types of roofs and cleaning requirements. They use specialized equipment and cleaning techniques that are both effective and safe for your roof.
Benefits of Hiring Professionals
There are several benefits to hiring professional roof cleaning services:
Expertise: Professionals have the expertise to assess the condition of your roof and determine the most appropriate cleaning method.
Safety: Trained technicians follow safety protocols and use proper equipment, ensuring a safe cleaning process.
Time and Effort Savings: Hiring professionals saves you time and effort, allowing you to focus on other tasks while they take care of your roof.
Longevity: Proper and regular cleaning by professionals helps extend the lifespan of your roof, avoiding costly repairs or replacements.
Curb Appeal: A professionally cleaned roof enhances the overall curb appeal of your home, making it more attractive to potential buyers if you plan to sell in the future.
Conclusion
Regular roof cleaning is essential for the longevity and curb appeal of your home. By avoiding common mistakes such as using high-pressure washing, neglecting regular cleaning, using improper solutions, not protecting landscaping, and attempting DIY cleaning, you can ensure that your roof remains in excellent condition. Hiring professional roof cleaning services provides numerous benefits, including expertise, safety, time savings, longevity, and enhanced curb appeal. Invest in the care of your roof to protect your home and maintain its value.