The summer heat can be relentless, making it essential to have an efficient and reliable air conditioning system. However, with so many options available in the market, choosing the right one can be a daunting task. Whether you're looking to cool your home, office, or industrial space, this article will guide you through the process of selecting the perfect air conditioning system for your needs.
When the mercury rises, having an air conditioning system that can keep you cool and comfortable becomes a top priority. The right air conditioner not only provides a pleasant indoor environment but also helps improve air quality and promote well-being. To ensure you make an informed decision, there are several factors to consider before purchasing an air conditioning system.
The importance of choosing the right air conditioning system
Investing in the right air conditioning system is crucial for several reasons. Firstly, it allows you to create a comfortable living or working space by maintaining the desired temperature and humidity levels. Secondly, it enhances indoor air quality by filtering out dust, allergens, and pollutants. Lastly, an efficient air conditioner helps conserve energy, resulting in lower utility bills and reduced environmental impact.
Considerations for determining the cooling capacity
Determining the cooling capacity of an air conditioning system is essential to ensure it can effectively cool the intended space. Factors such as room size, ceiling height, insulation, and the number of occupants need to be taken into account. By calculating the British Thermal Units (BTUs) required, you can choose a system that matches the cooling needs of your space. Upgrade your home renovation project with a state-of-the-art air conditioning system, providing optimal comfort and climate control for your space.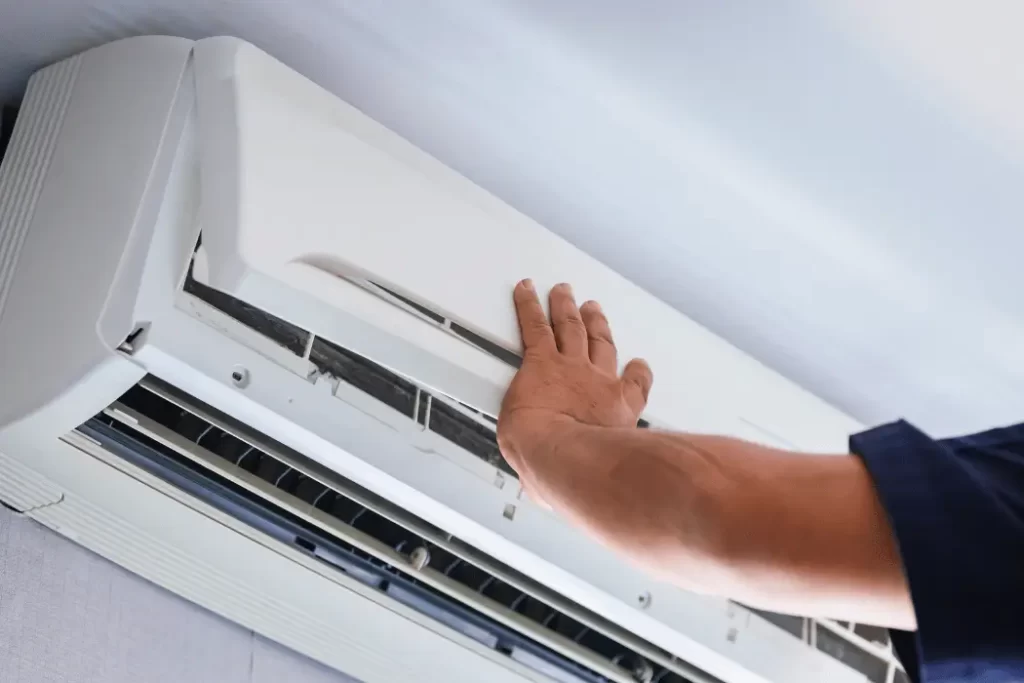 Energy efficiency and environmental impact
In today's eco-conscious world, energy efficiency is a crucial consideration when selecting an air conditioning system. Look for models with high Seasonal Energy Efficiency Ratio (SEER) ratings, as they indicate better energy performance. Additionally, opting for systems that use environmentally friendly refrigerants, such as R-410A, helps minimize harm to the ozone layer.
Types of air conditioning systems
There are several types of air conditioning systems available, each with its unique features and suitability for different spaces. Understanding the differences can assist you in making an informed decision. Here are some common types of air conditioning systems:
Central air conditioning
Central air conditioning systems are ideal for cooling larger spaces or multiple rooms simultaneously. They consist of a centralized unit that distributes cool air through a network of ducts and vents. While they require professional installation, they offer efficient cooling and can be integrated with heating systems.
Window air conditioners
Window air conditioners are a popular choice for cooling individual rooms or small apartments. They are self-contained units installed in windows or through-wall openings. These systems are relatively affordable, easy to install, and provide effective cooling for small spaces.
Split air conditioners
Split air conditioners are versatile systems that consist of two main components: an indoor unit and an outdoor unit. The indoor unit is mounted on a wall or ceiling, while the outdoor unit houses the compressor and condenser. Split systems offer quiet operation, energy efficiency, and the flexibility to cool multiple rooms with separate temperature controls.
Portable air conditioners
Portable air conditioners are convenient options that can be moved from room to room. They require minimal installation and are suitable for cooling smaller spaces. While they provide flexibility, they may not be as efficient as other types of air conditioning systems.
Factors to consider when selecting an air conditioning system
Choosing the right air conditioning system involves considering various factors that align with your specific requirements. The following aspects should be taken into account:
Room size and layout
The size and layout of the room play a crucial role in determining the appropriate cooling capacity and type of air conditioner. Larger rooms may require central air conditioning systems, while smaller rooms can be adequately cooled with window or split systems.
Energy efficiency rating
Opting for an energy-efficient air conditioning system can lead to significant cost savings in the long run. Look for models with high SEER ratings and energy-saving features like programmable thermostats.
Noise level
If noise is a concern, consider air conditioning systems with low noise levels. Window units tend to be noisier compared to split or central systems, which can impact your comfort, especially during sleep or work hours.
Installation requirements
Consider the installation requirements of the air conditioning system. Central air conditioning systems generally require professional installation, while window or portable units can be easily installed by the user.
Maintenance and service
Regular maintenance is crucial to ensure the longevity and optimal performance of your air conditioning system. Check for ease of maintenance, availability of service centers, and the reputation of the manufacturer or brand.
Cost
Determine your budget and compare prices of different air conditioning systems. While it's essential to stay within your budget, remember that investing in a reliable and efficient system will provide long-term benefits.
Assessing the cooling needs of different spaces
The cooling requirements vary depending on the type of space being cooled. Here are some considerations for different settings:
Residential spaces
In residential spaces, it's important to assess the cooling needs based on the number of rooms, occupants, and the overall layout. Central air conditioning systems or split systems are often suitable for cooling entire homes or multiple rooms.
Commercial spaces
Commercial spaces, such as offices or retail stores, have different cooling requirements. The size and layout of the space, the number of occupants, and the presence of electronic equipment need to be considered. Central air conditioning systems or a combination of split systems may be necessary to achieve effective cooling.
Industrial spaces
Industrial spaces, such as warehouses or manufacturing facilities, have unique cooling requirements due to high heat loads from machinery and processes. Industrial-grade air conditioning systems that can handle large spaces and high cooling demands are typically required.
Additional features to consider
Beyond the basic cooling function, some additional features can enhance your air conditioning experience:
Programmable thermostats
Programmable thermostats allow you to set temperature schedules, ensuring energy efficiency and maintaining desired comfort levels automatically.
Air quality enhancements
Some air conditioning systems offer additional air quality features, such as built-in air purifiers or filters. These features help remove dust, allergens, and other pollutants from the indoor air.
Smart technology integration
Many modern air conditioning systems can be controlled remotely through smartphone apps or integrated with smart home systems. Smart technology integration provides convenience and allows you to monitor and control your system from anywhere.
The importance of professional installation
To ensure the proper functioning and optimal performance of your air conditioning system, professional installation is recommended. Trained technicians have the expertise to handle the installation process, including sizing the unit correctly, connecting ductwork (if applicable), and verifying the system's functionality.
Tips for maintaining and optimizing air conditioning systems
Regular maintenance is crucial for keeping your air conditioning system in top condition. Here are some tips to optimize its performance:
Clean or replace air filters regularly to ensure proper airflow.
Keep the outdoor unit free from debris and vegetation for efficient heat exchange.
Schedule professional maintenance annually to check for refrigerant leaks, clean coils, and inspect electrical connections.
Use ceiling fans or portable fans to improve air circulation and reduce reliance on the air conditioner.
Set your thermostat at a moderate temperature to balance comfort and energy efficiency.
Conclusion
Choosing the right air conditioning system is essential for creating a cool and comfortable indoor environment. By considering factors such as cooling capacity, energy efficiency, types of systems, and specific requirements for different spaces, you can make an informed decision. Professional installation and regular maintenance are crucial for optimal performance and longevity. Stay cool, stay comfortable!